It is possible to make Christmas fragrant , ecological and low cost with oranges and cloves .
The combination of the intense and decisive scent of cloves together with the sour orange is able to release a warm and welcoming scent for the whole house.
These decorations can be hung on the Christmas tree or used to decorate and embellish table centerpieces, place markers or garlands.
After having dried and pierced the slices in the center, you can in fact insert a string and hang them where you prefer.
Dried oranges have the power to bring a little joy and liveliness to environments, making them naturally scented .
They are definitely a simple decoration that can be made even by the little ones.
The tradition of using dried oranges is a South Tyrolean tradition where they are still used today as Christmas decorations .
But how to do them?
1. Wash and dry the oranges
2. To help you, you can use to draw the shapes you prefer on the skins with felt -tip pens
3. Insert the cloves, applying light pressure to make them penetrate the orange peel.
4. Place them in your favorite centerpiece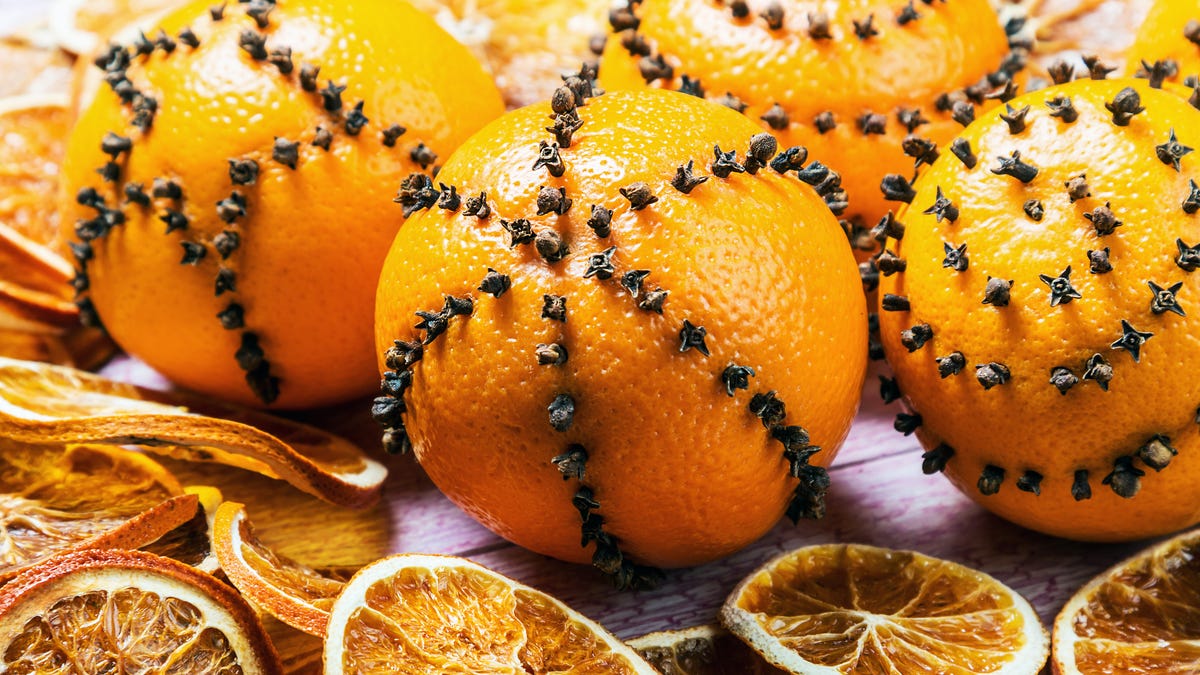 For a quick snack
Dried oranges can also become a practical and tasty snack with excellent properties or be added to infusions or herbal teas .
First of all, make sure to wash the orange peels thoroughly and proceed with the elimination of the two ends. Then cut the oranges with a thickness of 4-5 mm, arrange them on a size and proceed with drying using the dryer , alternatively you can opt with the oven in ventilated mode at 90 ° C for 3 to 4 hours.
Cloves, on the other hand, promote digestion , as well as being tasty they are also excellent sources of antioxidants , also useful in case of nausea and headache . They can be easily found in herbalists , the best products are those from Madagascar and Zanzibar.
A homemade gift idea
Dried oranges can also be used to make a potpourri to give as a gift. The potpourri is a blend of fragrant flowers and fruits that give off an overwhelming scent .
In this case you can use glass jars in which to insert: dried oranges, cloves, star anise, cinnamon or sprigs of pine .
Embellish Christmas gifts
It is true that thought counts but also the eye wants its part: simply two slices of oranges are enough to make your package an elegant and refined gift.
To give space to creativity, you can always opt for a sprig of pine , a cinnamon stick or small pine cones .
Do you know all the benefits of orange essential oil? Find out here.